Location:
Gunung Mat Cincang, 45 kms from Kuah, Langkawi
Highlights:
Seven pools of water
How To Reach:
One can easily reach here by hiring taxis, or by boarding buses from the island.
The Telaga Tujuh, precisely called Seven Wells, is a beautifully crafted geological manifestation. While taking the cable car ride to the top of Gunung Mat Cincang, you can perceive the awe-inspiring view of Telaga Tujuh Waterfalls. Located along Gunung Mat Cincang in the north-western corner of Pulau Langkawi, this picturesque waterfall is named such because its gushing water stream is broken by a series of seven natural pools.
At the site, there are seven wells/pools from which water glides delightfully from one pool to another. The stream finally cascades 90 meters down into the seventh pool. Over the years, the rapid flowing water has leveled the sharp rock surface. Further, this lovely waterfall gets a pictorial charm due to the verdant green surroundings.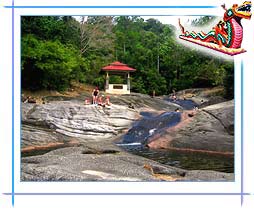 Indeed seven wells present a brilliant sight which one cannot forget during one's lifetime.
According to the legends, the fairies could not resist the charm to visit this beautiful place and that's why, they decided to make it their bathing place. In fact, the surrounding shrubs and plants around the pool are said to have been left by them. If you really want some adventurous trek, take a short climb to the top of the waterfalls. On your way through the rainforest, you will see many exotic creatures like long-tailed macaque monkeys and cream colored squirrels.
You might be lucky to get the glimpse of a hornbill, with its huge hooked orange beak, hanging out of the treetops. Enjoy the chirping of birds, whistling of woods and sound of cascading waters throughout your journey. Once arrived at the top, the quaint vista of the landscape is absolutely stunning and actually, it cannot be restricted in words. Thus, to put in succinct terms, Telaga Tujuh is a wonderful place to visit on your trip to Langkawi.