Reminiscent of any other country, Dance is a popular cultural form in Malaysia too. The influence of various cultures is inherent in the culture of Malaysia and it is also visible in its dance. Dance, of any nation state, doesn't only characterize the culture, but also make an inseparable part of entertainment. At times, you can find a particular dance known after some particular region. In fact, such dances act as an added attraction in celebrations, be it wedding parties, reception, religious ceremonies or any other event.
As regards the dances of Malaysia, there are many traditional dance forms which are still very much liked and performed in the country. Joget is a conventional dance form which is performed usually by couples, combining fast, graceful movements with good humor. Malaysia's most superb dance form is known to be the Candle Dance in which the candles are fixed on small plates and the dancer performs, holding plates in each hand. It becomes all the more fascinating to the onlooker with elegant body movements and curves.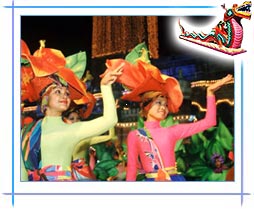 Many of the dance forms have been originated from martial arts or theatrical forms, like Silat. Silat was actually a deadly martial art accompanied by drums and gongs, but now it has become a full-fledged performing art and is often performed at occasions. In this, the dancers carry out sparring and other graceful movements as per the beats of drums and other musical instruments. For entertaining the royal guests, Malaysians have their own folk dance - Inang.
Datun Julud is another popular dance form which is often recognized with Sarawak. This is a longstanding practice of storytelling, while performing dance movements. A dynamic dance form, Lion Dance is a renowned dance from Malaysia which is carried out during Chinese festivals like Chinese New Year. This dance is considered to bring good fortune and improve resistance to evil spirits. It requires perfect co-ordination and elegance on the part of dancers.