Arts & crafts of the country depict its true nature and in fact, characterize its culture. The handicrafts of Malaysia too, boast of its long-established cultural roots that often resemble the mores of its neighboring countries. The multi-cultural feature of this country is reflected in the handicrafts, which are crafted by the local craftsmen. Batik, Songket, Kite Making, Woodcarving, Menkuang, Kris, Boat Making and Rattan Weaving are some of the major crafts shaped in Malaysia.
Batik
Batik is an art of dying fabric that was brought to Malaysia by Hindu traders, centuries ago. In this craft, Designs are first drawn up on cloth and then, are blocked off with wax outline. Batik has become an established craft which is commonly used on bags and cushion covers.
Kite Making
Designed in bright colors and patterns, Kites are carefully made in intricate patterns. Sometimes, floral patterns are also used for its decoration while paper tassels are joined to give it a complete look. This established art had been prevalent from the imperial times of the Melakan court.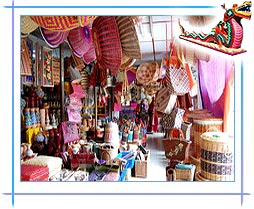 Pewter Making
Since Malaysia is known to be the largest producer of tin, it is expected that this country must have been utilizing this metal in its own way. Located near Kuala Lumpur, Royal Selangor Pewter Factory is the world's largest single manufacturer of fine pewter. The pewter articles made here are cherished by everyone.
Weaving
Natural reserves in Malaysia provides ample of materials, ideal for different types of weaving. Like the thorny vines of rattan tree are best used for making eco-friendly furniture and the strong fronds of sago palm are also suitable for crafting. In Borneo, sago is dyed into different shades and then, woven into artistic jewelry, baskets, hats, floor mats, etc.
Wood Carving
Both, Peninsula Malaysia and East Malaysia present adroit talent of wood carving. Moreover, one can see amazingly intricate carvings in porticos of Malay houses, in the roofs and altars of temples, on the prows of colorful fishing boats, and in the burial poles and masks of Sarawak. This oldest craft of the country is best seen in supports, balustrades, doors, window shutters and furniture.