About Malaysian Theater, it can be said that performing arts has not been provided a right platform here. However, from the past few years, the Government is making efforts to encourage the show business. The traditional theatrical forms include music, theatre, dance and drama. Earlier, the dialogues of the play used to be spontaneous without any scripts. Majority of the plays contended with folklores and fairy tales, which were passed verbally from one generation to the other.
No matter what was going on, but it caused problems like documentation, preservation and reconstruction of such theatrical forms. Today, the scenario of theatre in Malaysia has changed and it is getting recognition. Malay theatre is short of right infrastructure, though plays are performed by many proletarian groups in Kuala Lumpur. Before the Second World War, there were numerous specialized theater groups functioning in both, urban and backwoods.
Wayang Kulit is possibly the well-known traditional theatre of Malaysia. Essentially a shadow puppet theatre, it is distinguished in the state of Kelantan. In this, the puppeteer makes use of puppets to portray scenes from Hindu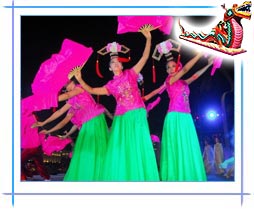 epics such as Ramayana. Influenced by Thailand, Mak Yong is actually an ancient dance-theater form integrating the basics of stylized dance, acting, story, song, vocal and instrumental music as well.
Manora is a type of folk-dance drama, emanating from Buddhist source. Recognizable by every culture of South-East Asia, it commonly illustrates a love story about a prince and a princess of Kinnara origin. In the late 19th century, Bangsawan originated in Penang and defined the 'Opera' of Malaysia. Characterized by martial arts and comedy, this operatic theater form is episodic and comprises features like spontaneous dialogue, song, dance, music and poetic language.
Boria is a different Penang-based theatre form which instigated out of religious rituals and later evolved to a secular performance. Well-liked in the Straits of Malacca and Penang, Dondang Sayang is a call-and-response theater form of song performance. Thanks to the pains taken by the government, Malaysian Theater is making progress and getting popular, or else the theatrical forms would have been kept exclusively for occasions like Sultan's birthday.