Location:
Jalan Kisap, Langkawi
Highlights:
An amazing variety of crystal ware
How To Reach:
One can easily reach here by hiring taxis, or by boarding buses from the island.
Langkawi Crystaal is an exclusive showroom that presents an attractive and exquisite variety of hand-made crystal products. It is situated along Jalan Kisap, which is just 5kms north of Kuah Town and 20kms from the Langkawi International Airport, in Langkawi. Once inside the store, you'll be enthralled to be such a wide range of beautifully designed crystal ware, including glasses, bowls and various other ornamental items of crystal.
For people who look for inimitability, there is a special corner which comprises unique collector's items. Undoubtedly, the crystal ware, available here, is absolutely distinctive and of matchless quality. These skillfully crafted crystal items, truly, reveal the dexterity of the craftsmen. The crystal pieces, to be found at Langkawi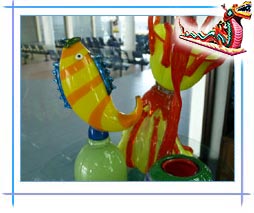 Crystaal, are renowned for their exceptional designs and great quality.
Here each crystal item is handmade and is given interesting free-form appearance, which is hardly seen in crystal ware. If you wish, you can visit the workshop and see the extraordinary glass-blowing skills of craftsmen, who are devoted in producing crystalware of the utmost standards and quality. At the Langkawi Crystaal, crystal products are created using conventional flaring techniques, a difficult process requiring accuracy and speed.
To craft a piece, the glass has to be heated, blown and shaped within a few brief minutes, otherwise the molten glass will start to drip. You can also buy amazing crystal ware from the showroom at great prices. To put in concise terms, Langkawi Crystaal is a great place to visit and admire the skills of the proficient craftsmen, and if you wish, grab some crystal pieces to embellish your home or to gift to your loved ones.