Location:
Chinatown, Kuala Lumpur
Built In:
1864
Significance:
It is the oldest Taoist temple in Kuala Lumpur.
How To Reach:
One can reach Sze Ya Temple by hiring taxis or by boarding buses, trains from the city.
Sze Ya Temple is acclaimed to be the oldest Taoist temple in Kuala Lumpur. Located in the Chinatown area near Central Market, the temple was built by Kapitan Yap Ah Loy-one amongst the founders of KL, in 1864. Sze Ya Temple is the local version of Sin Sze Si Ya Temple. Its unique structure is a fine specimen of the traditional Chinese architecture, based on Feng Shui principles. The temple boasts of elaborate interiors and intricate roof ridges. It is said to have been built by craftsmen from southern China.
The temple is dedicated to Sin Sze Ya and Si Sze Ya, the patron deities of the residents of Kuala Lumpur. Sze Ya Temple is different in a way that the deities worshipped here are not the Chinese traditional deities, rather two people who were elevated to the position of deities for their merit. It is believed that the prophecies of Sze Ya guided these people during the Selangor Civil War and made them to triumph. And that's how, these people happened to be worshipped by the locals.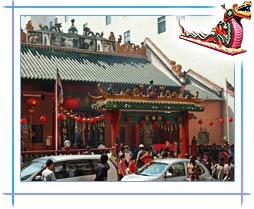 Sin Sze Si Ya Temple is one of the 13 temples in Peninsular Malaysia that are dedicated to Xian Shi Ye. It features a main hall and two side halls. Moreover, century-old sedan chairs, which used to be employed in the religious processions earlier, are displayed at the temple entrance. A memorial plaque in the honor of the pioneers - Chan Sow Lin, Yap Ah Shak, Yap Ah Loy, and Yap Kwan Seng, is also placed at the entrance.
On your visit to this temple, you might witness the practice of old Chinese customs, like prayers to the White Tiger Deity or people worshipping under tables. Besides, the temple is famous for its charity work, which is done through a trust. Established in 1907, this trust has 12 trustees that represent the different Chinese clans. Every year, two thirds its income is donated to charitable causes, usually for educational and medical purposes. To sum up, Sze Ya Temple is a must-visit place in KL as it represents the rich heritage of Malaysia.