Location:
Robinson Heights
Built During:
1981-87
Highlights:
Brilliant architecture
How To Reach:
One can easily reach the temple by hiring taxis, or by boarding buses, trains from the city.
The Thean Hou Temple is amongst the largest Chinese temples in South-East Asia. To be found atop Robinson Heights facing Jalan Syed Putra (Federal Highway) in Kuala Lumpur, the temple is sprawled in 1.67 acres of land. Goddess Thean Hou, the patron goddess of the Hainanese community, is the presiding deity in the holy shrine. It is believed that the original temple was constructed about 100 years ago in Jalan Sultan, Kuala Lumpur.
The years of planning and fundraising became fruitful when the ground-breaking ritual for the new building was held on 30 Aug' 1981. Though the construction got completed in 1987, the temple was formally opened by the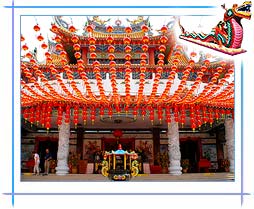 then Housing and Local Government Minister, Tan Sri Lee Kim Sai, on 3 Sep' 1989. This striking six-tiered temple was formed at the cost of RM 7 million. Thean Hou Temple is managed by the Selangor & Federal Territory Hainan Association.
This grand temple has elements of Buddhism, Taoism and Confucianism and indicates a great combination of contemporary architectural techniques and authentic traditional designs. It features impressive pillars, fabulous roofs, ornate carvings and intricate embellishments. In fact, its imposing architecture has made it a well-liked tourist destination. The main entrance of the temple boasts of a multi-arched doorway with red pillars.
On the first level, one can check out some really interesting souvenirs at stalls and relish the delicacies at the canteen. While the second level addresses a multi-purpose hall, the offices are to be found on the third level. The fourth level comprises the prayer hall and 3 tiers. The prayer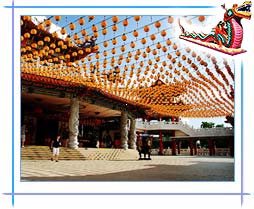 hall has 3 altars, and each altar has a sculpture of one goddess. Tian Hou (the Goddess of Heaven) sits in the middle, flanked by Guan Yin (the Goddess of Mercy) and Shui Wei Sheng Niang (the Goddess of the Waterfront).
A small statue of Guan Yin, set amongst rocks and falling water, is placed to the right of the prayer hall. Throughout the year, innumerable people visit the temple to offer prayers to the goddesses. Besides being a place of worship, the temple is a renowned place for cultural activities and makes the venue for about 100 activities every year. The birthday celebration of Goddess Thean Hou is regarded as the biggest ever merriment, held outside China. To sum up, Thean Hou Temple is a nice place to visit and get the blessings of the Goddess.