Location:
Jalan Raja, Kuala Lumpur
Built In:
1894
Significance:
It is the Mother Church of the Diocese.
How To Reach:
One can reach here by hiring taxis, or by boarding buses, trains from the city.
St. Mary's Cathedral is the church of the Diocese of West Malaysia located along Jalan Raja, near Independence Square, in Kuala Lumpur. It is the chief office of the Anglican Bishop of West Malaysia, apart from being the mother church of the Diocese. However, the original structure was a plain wooden building along Buff Road atop Bukit Aman. This Anglican Church of St. Mary was sanctified by Rt. Rev. George Frederick Hose, the Bishop of Singapore and Sarawak, on 13 Feb' 1887.
This wooden church, which took $1,363 to build, could accommodate up to 95 people at the most. During those times, this church used to be the main centre for worship and spiritual activities for the small group of Anglicans,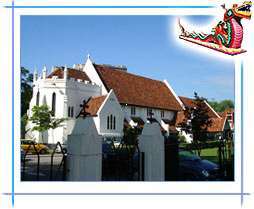 in and around Kuala Lumpur. Some of the early parishioners were W.M. Treacher, F.A. Swettenham, E.W. Birch, A.R. Venning, G. Murray Campbell, and C.E. Spoone. Since the parishioners grew gradually, in 1893, it was decided to construct a new, bigger church.
The site for new church was found alongside Parade Ground (now called Independence Square). Subsequently a Church Building Fund plea was made which raised the sum of $5,168. Sir Cecil C. Smith, who was the Governor of the Straits Settlements, approved that the Government of Selangor would provide $5,000 for the construction of the new-fangled church. AC Norman, the British architect who also planned the Sultan Abdul Samad Building, designed this modest specimen of architecture.
On 3 Feb' 1894, the foundation stone of the church was laid by Sir W.H. Treacher,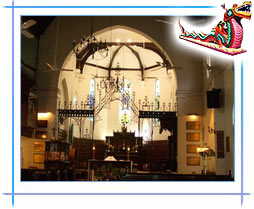 the British Resident of Selangor, in a ceremony solemnized by the Bishop G.F. Hose. In 1895, a pipe organ, built by Henry Willis, was installed in the church. In 1958, the backside of the main sanctuary was extended to build a huge hall, called the Jubilee Hall. The church edifice consists of a nave (87 ft long, 28 ft wide), a chancel with octagonal end (29 ft long 22 ft wide), vestry, and organ chamber.
The church's nave can accommodate 180 people, while the chancel can house a choir of 20. St. Mary's Anglican Cathedral is active and organizes sermons of celebrated saints from all over the world. For sure, the Church is worth paying a visit if you're in Kuala Lumpur.