Location:
Jalan Perdana
Built in:
1965
Highlights:
73-meter-high Minaret
Significance:
Masjid Negara is the national mosque of Malaysia.
How To Reach:
One can easily reach Masjid Negara by hiring taxis, or by boarding trains, buses from the city.
Masjid Negara, sited in Kuala Lumpur, is distinguished as the national mosque of Malaysia. Sprawled in 13 acres of landscaped gardens, the mosque is counted amongst the largest mosques of Southeast Asia with its capacity to accommodate 15,000 people at a time. Its novel structure was designed by a team of three people from the Public Works Department, including Howard Ashley (UK architect), Hisham Albakri and Baharuddin Kassim (Malaysians).
The National Mosque, originally built in 1965, is the modern representation of the aspirations of a then newly-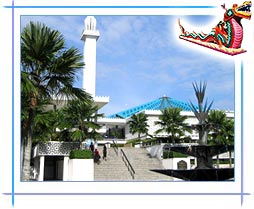 independent Malaysia in rock-hard concrete. Its highlights are formed by a 73-meter-tall minaret and an 18-pointed star-shaped central dome. This 18-point star represents 13 states of the country and 5 central pillars of Islam; it makes the roof appear like a partly opened umbrella. While the folded plates of the main roof is a resourceful way out to get the larger spans, requisite in the main gathering hall.
Throughout the compound, one can see the cascading riots in pools and fountains. Masjid Negara came into existence as a symbol of the country's independence. In 1987, the mosque underwent a major renovation, and the earlier-pink concrete roof was then draped in green and blue tiles. At present, the National Mosque continues to stand elegant and lustrous, touching the skyline of Kuala Lumpur.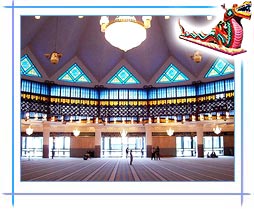 The distinctive contemporary design exemplifies a modern expression of long-established Islamic art, like calligraphy and ornamentation. Certainly, Masjid Negara, being a recent example of the conventional art, is the pride of Kuala Lumpur. While entering the mosque, travelers are suggested to wear modest clothing and to remove their shoes outside. To sum up, the National Mosque is a nice place to glimpse the cultural and religious ardor of Malaysia.