Location:
Lake Gardens
Established In:
1991
Highlights:
Assorted variety of birds
How To Reach:
One can reach here by hiring taxis or by boarding buses, trains from the city.
Taman Burung Kuala Lumpur, literally Kuala Lumpur Bird Park, is a unique habitat of birds in the capital of Malaysia. KL Bird Park is famous globally as 'The World's Largest Covered Bird Park'. In 1991, the Kuala Lumpur Bird Park was formally opened by Her Majesty Queen of Malaysia-Tunku Bainun. Ever since it has been managed by DBKL (City Hall) until its administration got into the hands of Safari Bird Park & Wonderland, in 2001.
The Bird Park sprawls in 20.9 acres of lush valley terrain of Lake Gardens, and is home to over 5,000 birds from approximately 200 species of local and international birds. After coming here, you will feel as if you have been transported into another world because watching colorful and melodic birds perching freely is an entirely different kind of experience. The most unique feature of this park is that here birds are let free in the aviary, which actually resembles their natural habitat.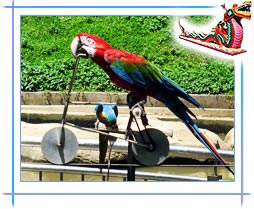 Some of the frequently noticeable birds are Hornbills, Flamingos, Parrots, Cockatoos, Storks, Pheasants, Mynahs, Pigeons, Macaws, Ducks, and Waterhens. Besides Malaysia, the birds also have been collected from countries, such as, Australia, Papua New Guinea, Thailand, Indonesia, Tanzania, China, Holland, Africa, South America, and South East Asia. As expected, Bird-watching is a most common activity out here and bird lovers are often seen with their binoculars on.
Since the park has abundant floral wealth, the birds get out of sight at times. So it would be nice idea to carry your binoculars along, to have the full view of birds. Due to its innovative concept of keeping birds in natural surroundings, KL Bird Park has become the favorite haunt of research scientists who study about birds and their behavioral patterns in their natural habitat. To put succinctly, Kuala Lumpur Bird Park is a nice place to watch birds chirping and peeping freely.