Location:
Jalan Perdana
Attractions:
Orchid Garden, Deer Park, Butterfly Park
Significance:
Oldest Park in Kuala Lumpur
How To Reach:
One can reach Lake Gardens by hiring taxis or by boarding trains, buses from the city.
Lake Gardens Park, called Taman Tasik Perdana in Malay, is the oldest park in the garden city of Malaysia, Kuala Lumpur. Indeed it is the favorite haunt of every city dweller. This botanical garden is situated around two lakes in the heart of KL, sprawled in 91.6 hectares of close-cropped lawns, undulating hills and well laid-out gardens. Dates back to the 1880s, Lake Gardens was the brainchild of Alfred Venning-the British State Treasurer. Earlier it used to be the region of superiors homes of the British elite.
The garden showcases the synchronization, splendor and serenity fashioned by both, man as well as nature. Moreover, it acts as a lovely haven within the city that proffers cool and soothing vibes as one walks through a scene of interesting blooms, copious foliage, impressive sculptures, inspired theme parks and colossal raintrees. In fact, the park provides visitors a wide range of services, such as, children's playground, jogging tracks, exercise stations and paddle boats.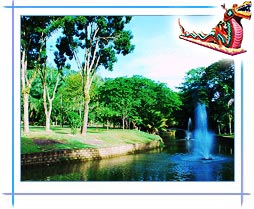 Whereas other attractions in the park comprise a butterfly park, a bird park, a deer park and flower gardens. Another attraction is the Panggung Anniversary, which is set in an isolated valley and is a regular venue for musical and cultural performances. All these park attractions are accessible by foot, though regular shuttle bus service is also available. Within the gardens lies Carcosa Seri Negara, which is a fitting place to have tit-bits or evening tea.
Whether you want to roam through aviaries at the Bird Park and Butterfly Park or take a stroll through the Deer Park and Orchid Garden, Lake Gardens is an apt place to relax and unwind yourself in the lap of nature. Here the landscaped hills and superb trails grant a flight to people for a jog or some early morning tea. So if you're tired after the day's long hectic schedule, Lake Gardens Park is a place to be on course for, simply to lighten up in the nature's way.