Location:
Near Kuala Lumpur Tower
Established In:
1906
Highlights:
Remarkable variety of flora & fauna
How To Reach:
One can reach here by hiring taxis, or by boarding buses, trains from the city.
Bukit Nanas Forest Reserve is known to be one of the oldest permanent forest reserves in Malaysia. Earlier known as Bucket Weld Forest Reserve, Bukit Nanas was declared as a forest reserve in 1906. In 1934, it got the recognition of being a Wildlife Reserve and Bird Sanctuary. Later, in 1950, its unspoiled section of about five hectares was declared as a Virgin Jungle Reserve. The Reserve, sprawled in 10.5 hectares, is a remarkable tropical rainforest near KL Tower in Kuala Lumpur.
It is sited right in the heart of Kuala Lumpur and can be easily accessed from Jalan Ampang, Jalan Gereja and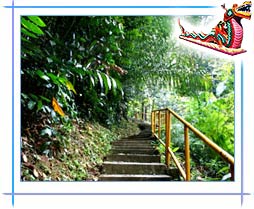 Jalan Raja Chulan. While paying a visit to KL Tower, you can formulate the itinerary including Bukit Nanas seeing that it lies just beside the entrance to the Tower. A visit to this florally-rich sanctuary refreshes one to the core. Likewise, this prosperous forest also helps in purifying the air of its environs. The exotic variety of flora that thrives within the forest consists of rare herbs, creepers, ferns, and climbers.
You can follow a few of the nature trails, like Merbau Trail (361m long) and Jelutong Trail (300m long), in this forest reserve. Along the trail, you might witness some colorful butterflies and insects. If you are fortunate enough, you may possibly see the silver lacquer and the long tailed macauque monkeys that exist in this park. Some other varieties of fauna, existing in the park, include Squirrels, White-Throated King Fisher, Common Myna, Yellow-Vented Bulbul and White-Rumped Shama.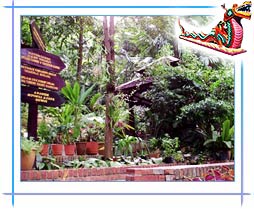 Each path or trail is marked by informative signages, which are installed near the trees species, such as, Kapur (Dryobalanops aromatica), Keruing bulu (Dipterocarpus baudii), Jelutong (Dyera costulata), Meranti pa'ang (Shorea bracteolata), and Rattan (Calamus manan). People, who love jogging, can have a good time here because certain paths in the forest are ideal for the activity. An open gymnasium is also accessible for everyone who could do with stretching and exercising.