Location:
Jalan Dato' Onn, Kuala Lumpur
Inaugurated On:
15 April 1989
Highlights:
Rare and commemorative coins
How To Reach:
One can easily reach Money Museum by hiring taxis, or by boarding buses, trains from the city.
Bank Negara Money Museum, called Muzium Matawang Bank Negara in Malay, celebrates the evolution of money at different times in the history of Malaysia. Located within the Central Bank on Jalan Dato' Onn in Kuala Lumpur, the Bank Negara Money Museum has loads of things to exhibit and please almost every numismatist. In fact, a casual onlooker would also find this display interesting enough to stop and look for a while. The museum's main purpose is to act as a depository for the earlier and modern currency of Malaysia.
On 5 April 1989, the Money Museum was inaugurated by the Datin Seri Dr Siti Hasmah Mohamed Ali, in conjunction with the 30th Anniversary of Bank Negara Malaysia. The Museum boasts of an interesting display of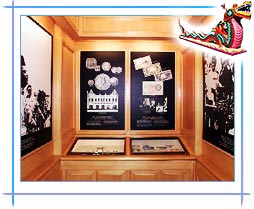 old Malaysian currency, commemorative and rare coins, together with foreign currencies. Here the progression of currency is represented through various artefacts, medals, tokens, coins and banknotes, which were used earlier for trade exchange.
Most of the coins and rare items on display have been obtained through auctions, donations and direct purchases from collectors. The Museum, itself, is a work of art. Its elegant interiors, which range from the elaborate carvings of the 100-year-old teak at door, panels, shelf designs to impressive lighting, make it all the more fascinating. Thus, besides being a great attraction, the Money Museum is a great place to gather knowledge about the history and evolution of Malaysia coins and currency notes.