Location:
Level 4, Suria KLCC
Highlights:
Dark Rides, Oil Rig, etc
How To Reach:
One can easily reach Petrosains by hiring taxis, or by boarding trains, buses from the city.
The Petrosains Discovery Centre is a high-tech interactive gazebo that reveals the story of petroleum industry in an amusing way. Located at Level 4 of Suria KLCC in Kuala Lumpur, Petrosains is helping to create better understanding about career opportunities in the petroleum industry amongst people. In fact, it's a perfect place for everyone to experience the wonders of science and technology, associated with the petroleum industry, through exhibits.
The centre has more than 150 exhibits, which not only concentrate on petroleum science but also comprise other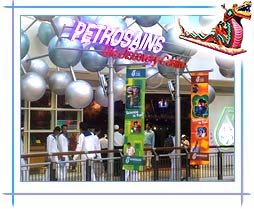 aspects of general sciences. This modern museum is designed to facilitate visitors to interact with the exhibits on display. A visit to Petrosains is an experience in itself. The centre is creating awareness amongst people through its 7,000 square meters of exhibit area where interactive exhibits and fun activities are showcased.
Some of the major interesting features are Dark Rides, Giant Diorama with a Singing Dinosaur, Molecule 'Nanoworld' Experience, Helicopter Simulator Ride, Oil Rig, authentic replicas of prehistoric plants and animals, etc. Throughout this journey, the front-line personnel will assist you to take pleasure in the rides and exhibits, without facing any hassle. So, whether you visit the oil platform or travel in vehicle shaped like an oil drop, it is for sure that you'll enjoy visiting the Petrosains.