Location:
Level 3, Suria KLCC
Established In:
1993
Highlights:
Paintings, Gifts, etc.
How To Reach:
One can easily reach Galeri Petronas by hiring taxis, or by boarding trains, buses from the city.
Galeri Petronas is a popular gallery for artists to display their artworks, thus fostering the budding interest of the Malaysians in visual arts. Originally, the gallery was established in 1993 at the Dayabumi Complex, which was the former command center of PETRONAS-the National Oil and Gas Corporation of Malaysia. Its origin created a noteworthy venue for the exhibition of artworks in Kuala Lumpur. The gallery was relocated to its present location in Suria KLCC in 1998.
The novel gallery is spread in 2000 sq meters, providing larger space to extend activities for promoting and contributing to the development of art. It offers a dynamic programme of exhibitions, including all forms and styles of art. Since its founding in 1993, the gallery has hosted numerous art exhibitions and has earned appreciation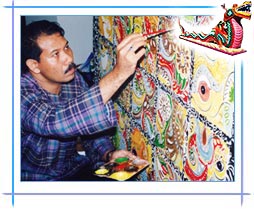 for its innovative attempt. It displays both national and international artworks, including works of in-house curatorial team and foreign organizations.
Seeing that it hosts several local and foreign artists, it persuades them to exchange dialogues and have better understanding of art. The Art Collection at the gallery comprises about 1000 works, including painting, drawings, photographs, sculptures, textiles, crafts, costumes, prints, and ceramics, from Malaysia and overseas. It also consists of cherished gifts which have been presented to the company by its worldwide business partners over the years.
Galeri Petronas is owned and funded by Petroliam Nasional Berhad (PETRONAS). The oil corporation believes in developing a holistic society, where wealth is complemented by a rich cultural heritage and the welfare of the people. Over the years, the gallery has become a resource centre on art which not only makes the venue for art displays, sponsoring documentations and art publications, but also encourages research. To put succinctly, Galeri Petronas is a nice place to visit in Kuala Lumpur.