Location:
Jalan Lembah Perdana, Near Lake Gardens
Attractions:
Art galleries, artifacts
Highlights:
Amazing collection of paintings
How To Reach:
One can easily reach IAMM by hiring taxis, or by boarding buses, trains from the city.
Islamic Arts Museum Malaysia (IAMM) is to be found amidst the lush greenery in Kuala Lumpur. Seeing as interest in Islamic art has developed in the past few years, this Southeast Asia's largest museum of Islamic Art reflected that curiosity when it was opened in 1998. The museum, sprawled in an area of 30,000 sq mtr, is within walking distance to the National Mosque, Birds Park and National Planetarium.
The IAMM has over seven thousand artifacts, in conjunction with an excellent library of Islamic-art books. Whatever be the art objects on display, each piece is unique in itself. The artifacts on exhibit vary from the small pieces of jewelry to the huge models of Masjid al-Haram. The sole intention is to craft a collection, which actually represents the Islamic world. Rather than focusing the complete attention on works of Persia and the Middle East, the museum has also stressed on Asia.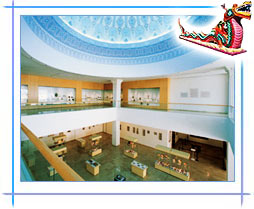 Some of the gems of Southeast Asia, particularly China, India and Malaysia, are represented very well. In the 12 galleries of the museum, other elements of the collection are demonstrated in accordance with type rather than geographical origins. The architectural style of the museum is modern however subtle Islamic touch is imparted through details. Its iwan-style entrance is transformed into a ceramic tapestry, which edges a welcoming verse from the Quran.
The turquoise-colored domes make the crown of this majestic building. Within the building, the sharp designs of the 21st century are contrasted with the soft interiors of the museum. Such impressive features that were crafted by the artisans from Uzbekistan assist in forming an airy and harmonious ambience. The flawless flow of light and space is retained throughout the museum, including galleries, library and restaurant. To put succinctly, Islamic Arts Museum Malaysia is a must-visit place on your trip to Kuala Lumpur.