Location:
Jalan Tun Razak
Established In:
1958
Highlights:
Permanent exhibition of over 2,500 pieces of artworks
How To Reach:
One can easily reach here by hiring taxis, or by boarding trains, buses from the city.
The Balai Seni Lukis Negara, literally the National Art Gallery of Malaysia, is one of the most established art museums in South East Asia. Located along Jalan Tun Razak in Kuala Lumpur, it was established on 28 Aug' 1958 under the initiative of Tunku Abdul Rahman-the first Prime Minister of Malaysia. The Gallery was started with just four donated works of art in a rented space at the Dewan Tunku Abdul Rahman, which was Malaysia's first House of Parliament.
The National Art Gallery had undergone a long journey to appear as a full-fledged museum of masterworks. Today, it's an agency under the Ministry of Culture, Arts, and Tourism of Malaysia. Along with a permanent collection of over 2,500 pieces of artworks, the National Art Gallery is sited in its permanent building which was formally inaugurated on 16 Sep' 2000 by Prime Minister Datuk Seri Dr Mahathir Mohammed.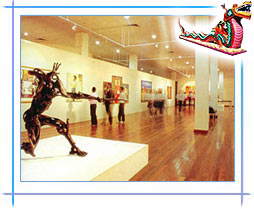 Its novel building has traditional designs with touch of modern architecture. Sprawled in a floor space of 13,000 sq m, the Gallery is classified into 5 galleries, an auditorium, a café, a resource centre, an outdoor exhibition area, a creative centre for workshops and an administrative centre. The Gallery aims to infuse love and awareness for art works amongst the public. To encourage such awareness, the authorities frequently organize art competitions, seminars, educational programs, and workshops too.
The Art Gallery, built with aesthetics and functionality in mind, crafts a room for the preservation, development, exploration and experimentation of the various facts of the Malaysian art. It's place where for excellent works of local and international artists are exhibited in a number of permanent and temporary exhibitions. Being centrally located in KL, the National Art Gallery is a popular visiting spot among the locals and tourists, as well.