Location:
RMAF Base, Jalan Lapangan Terbang Lama
Established In:
1985
Highlights:
18 phased-out aircrafts
How To Reach:
One can reach the museum by hiring taxis or by boarding trains, buses from the city.
The Royal Malaysian Air Force Museum is a significant museum pertaining to history of aviation in Malaysia. Located at RMAF base along Jalan Lapangan Terbang Lama in Kuala Lumpur, the museum aspires to be a resource center of aviation history. In 1985, it was formally opened by the Chief of Armed Forces Staff - Gen Tan Sri Ghazali bin Dato Mohd Seth, in conjunction with the 27th anniversary of the formation of the Royal Malaysian Air Force.
The museum was established with an intention of storing and displaying various items and records regarding the Air Force of Malaysia. A modest beginning of the museum at Sungai Besi Air Force Base was never expected to reach such heights. It intended to acquire the Air Force aircrafts that were timed out since the early 1960s. Started with just five aircrafts as exhibits, it now has no less than 18 phased-out aircrafts on display.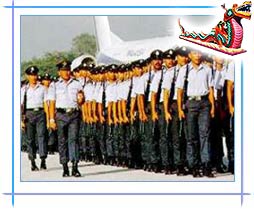 Associated with the Royal Aeronautical Society Malaysia (RAeSM), it is actually a hub of activities for recreational aviation because aeromodelling and radio-controlled (R/C) flying activities are encouraged by the RAeSM. Here one can see numerous photographs, momentos, engines, articles, aircraft models, uniforms, armament, and communication equipment, which describe the evolvement of the Malaysian Air Force.
Some of the aircrafts presently in the collection include Scottish Aviation Twin Pioneer, Scottish Aviation Single Pioneer, Hunting Piston Provost, DeHavilland Dove, CAC Avon Sabre jet, etc. The Museum has begun running out of space due to innumerable exhibits. Seeing the situation, the larger aircrafts are parked outside though the smaller ones are parked in the hangar. The museum is further planning to reinstate an old Bulldog aircraft, dating back to 1950s.