Currency:
Ringgit
Currency Code:
MYR
Subunit:
sen (1/100)
Symbol:
RM
Coins:
5, 10, 20, 50 sen
Banknotes:
RM1, RM2, RM5, RM10, RM50, RM100
Central bank:
Bank Negara Malaysia
Mint:
Royal Mint of Malaysia
The Malaysian currency is called Ringgit Malaysia and is denoted by symbol RM. The ringgit, the currency of Malaysia, is unofficially identified as the Malaysian dollar. With currency code of MYR (Malaysian Ringgit), a Ringgit is divided into 100 sen (cents). Bank Negara Malaysia issues ringgit in the country. Ringgit comes in, both notes and coins.
In banknotes, the currency is denominated into RM 1, 2, 5, 10, 50 and 100. Regarding coinage, ringgit denominates into 5 sen, 10 sen, 20 sen and 50 sen. The currency can be exchanged at RM3.80, against the U.S. dollar. If you're carrying your currency, then you can exchange it at various banks, big hotels and currency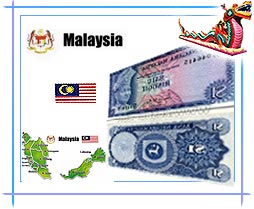 converters present all over the country. Maximum cities have ATMs, which further add to travelers' convenience.
Permitted Currency Limits Prior to arrival or departure from Malaysia, every traveler (including children) has to fill the Travellers Declaration Form (TDF) despite of the amount of currency carried. Permitted currency limits according to the Malaysian Government are given here: