Malaysia certainly has a brilliant transport system to boast of. The moment you reach the country, you have ample of transport options at your hand which would take you to even the remotest areas. In fact, it has all modes of transportation, ranging from air to rail and road to sea. Getting around the mystifying country would be absolutely no problem together with efficient and convenient transport options. Malaysia's well-developed road and rail connections also connect it with the neighboring countries - Singapore and Thailand.
Peninsular Malaysia has strong network of roads that covers the entire length and breadth of the nation. Internal traveling is comparatively easy, comfortable and affordable as well. Major tourist destinations, including towns and cities, are attended by air-conditioned trains, buses and flights. Many domestic airlines serve the airports of the nation. Being the capital, Kuala Lumpur is obviously the major hub of transportation along with its vast railway station and airport.
To reach East Malaysia, one can either travel by air or by sea. In Sabah and Sarawak, traveling by four-wheel vehicle is advisable on unpaved roads. However, there are numerous remote areas which can be only reached by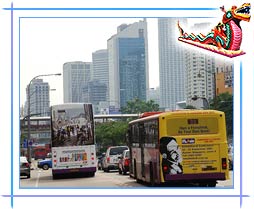 boats. If you want to enjoy the countryside sights, prefer traveling by rail which is comfortable as well as affordable. Port Klang and Penang, in the Straits of Malacca, connects the country to other countries by sea. Learn more about transportation in Malaysia.
By Air
Traveling by air is really convenient way to cover long distances is less time. Tourists from all over the world get down at Kuala Lumpur International Airport (KLIA) that is connected to nearly all cities and towns in Malaysia, including Sabah and Sarawak. Besides the KLIA, there are numerous airports which connect each by regular flights. These airports have latest facilities and provide good services to the passengers, moving either way. Malaysia Airlines (MAS), the national carrier, offers not only international flights, but also domestic flights. Some of the other domestic airlines are Air Asia, Transmile Air and Berjaya Air.
By Road
If you're looking for a cheap mode to get around, buses make the best deal. In big cities, you can find air-conditioned buses that are little expensive than non-ac ones. However, the latter one is easily available in small towns around the country. Interstate buses usually have fixed rates, while intrastate buses charge fares according to the distance covered. In cities, taxis are generally metered but drivers don't use the meters frequently and charge high rates. If traveling by taxis, prefer settling a price prior to getting in, though a surcharge of 50% is levied between midnight and 6am. In small towns, taxis usually charge a fixed rate.
By Rail
In Peninsular (or west) Malaysia, Malayan Railways or Keretapi Tanah Melayu Berhad (KTM) connects all the major cities and towns. You can choose from the First, Second or Economy Class and travel comfortably in air-conditioned coaches. In the first and second class coaches, sleeping berths are granted to the passengers. Each express service has a restaurant coach that serves local and continental cuisine. For traveling by rail, tickets can be purchased 60 days in advance from the date of journey. Children below four can travel free, while those who are above four and under twelve are charged half the adult fare. Foreign tourists can also take 30-day or 10day Tourist Railpass which offers unlimited travel on KTM for the mentioned period.
By Sea
Penang, Port Klang, Kuantan, Kuching and Kota Kinabalu are some of the ports that offer entry into Malaysia. Between Penang and Butterworth, coastal ferries sail often transporting passengers and vehicles from the mainland to the island. Besides, numerous ferry/ boat services can be availed for mainland-to-island and island-to-island travel around the nation. For getting around in Sabah and Sarawak, fast boats and small river crafts work great to reach isolated settlements. Local tour agents can also make available sea-cruises and river-cruises.